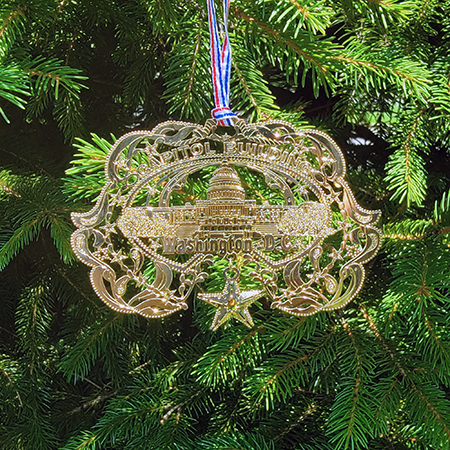 $23.00

PRODUCT ID :
Celebrate the Spirit of American Democracy and the Joy of the Holiday Season with our exquisite Capitol Building Washington DC gold finish Ornament. This finely crafted keepsake beautifully portrays the iconic Capitol Building, an architectural marvel steeped in historical significance, making it the perfect addition to your Christmas tree.

The ornament features a meticulously detailed design of the Capitol Building, with its neoclassical fašade, impressive columns, and the prominent dome that symbolizes the core principles of American democracy. The words "CAPITOL BUILDING" elegantly displayed on top add to its significance, proudly representing this iconic landmark. Below, the words "Washington, DC" further enhance its value as a symbol of American heritage.

Adding to its allure, a brilliant gold star dangles from the bottom center of the ornament, perfectly complementing the elegant gold finish. As light dances off the gilded surfaces, the ornament captures attention, creating an enchanting glow that adds to your festive ambiance.

Every element of the Capitol Building Washington DC ornament reflects the essence of this remarkable landmark, allowing you to bring its grandeur and historical significance into your home. Order now and celebrate the essence of democracy in the heart of your home, as you adorn your Christmas tree with this timeless treasure. Let the spirit of American pride and the joy of the holiday season come alive with this exquisite ornament, reminding us of the enduring principles that shaped our nation.

Payment methods accepted









Billing Questions please call 202.285-3238