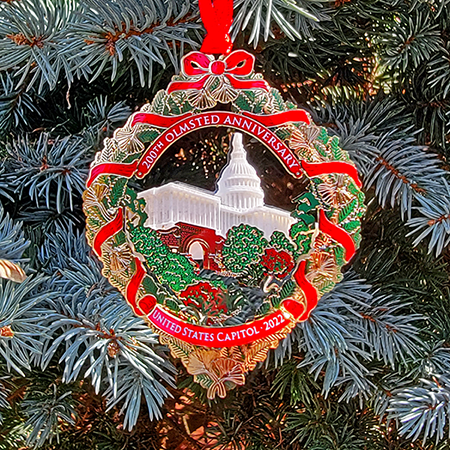 $33.00

PRODUCT ID : FLOBO22
White House Christmas Ornament is proud to offer this beautiful commemorative ornament inspired by the 200th anniversary birthday of Frederick Law Olmsted. His work helped to establish the American profession of landscape architecture. He created a notable body of park, institutional, and private residential designs that influenced the essential shape of cities. In 1873, Congress commissioned Olmsted to design the enlarged grounds of the U.S. Capitol. After careful study, in June 1874 he presented a plan for a sophisticated landscape that highlighted the building it surrounded.

The ornament showcases Olmstead's symmetrical design of the United States Capitol grounds incorporating park-like edging, low walls, careful placement of trees and simple shrubs, and a series of curved walkways that surround an attractive a northwest view of the Capitol building. Just below the marble cameo features of a marble brick summerhouse Olmstead designed to provide visitors with a drinking fountain and a cool place to rest.

This ornament is proudly made in America.

Payment methods accepted









Billing Questions please call 202.285-3238