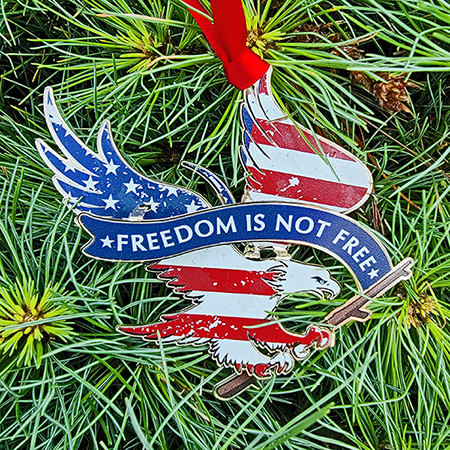 $28.00

PRODUCT ID : 21FRNFEO
Our 24 karat gold finish ornament commemorates the sacrifices made by men and women the United States Armed Forces in order to ensure the freedom and security of South Korea. The War was a life-and-death struggle against communist North Korean and Chinese forces that raged for three long years.

The ornament features a red, white, and blue eagle holding up blue FREEDOM IS NOT FREE banner. These words are inscribed on the granite wall of the Korean war Memorial in West Potomac Park, located on the National Mall in Washington DC.

The origin of the phrase is credited to U.S. Air Force Colonel Walter Hitchcock to remind Americans that their freedom is possible due to the risks taken and sacrifices made by those in the armed services.

Order your momento of Freedom today. Proudly made in the USA.

Payment methods accepted









Billing Questions please call 202.285-3238