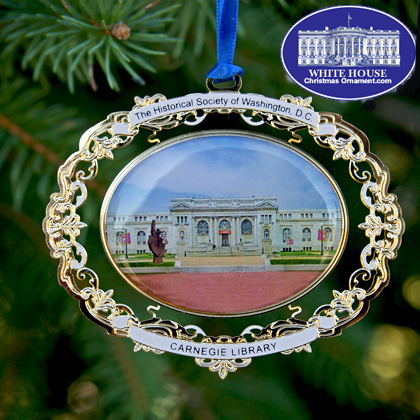 $16.00

PRODUCT ID : 9813067
The White House Ornament Collection presents The Historical Society of Washington, DC Ornament.

Founded in 1894 by a group of men and women, the Columbia Historical Society, as it was called until 1988, had stated as it's goal: "collecting the scattered and rapidly disappearing records of events and individuals prominent in the history of the city and District." Housed in the Carnegie Library at Mount Vernon Square, the Historical Society's Board made a commitment to pursue a long time dream of city residents to establish a museum devoted to the city's own history.

The Historical Society of Washington, DC mission statement is as follows: "The Historical Society of Washington, DC, serves the city, its residents and visitors as an educational institution that promotes knowledge of the past for better understanding of the future. The Historical Society of Washington, D.C. collects, preserves and shares the rich history of Washington, DC."

This Christmas Gift Idea can serve as either a handsome Christmas display or a White House Christmas Tree Ornament. Whether you are looking for a holiday ornament, a tree ornament, or Christmas collectable, this gift will make any Christmas a White Christmas. Own a moment of White House history.


Payment methods accepted









Billing Questions please call 202.285-3238