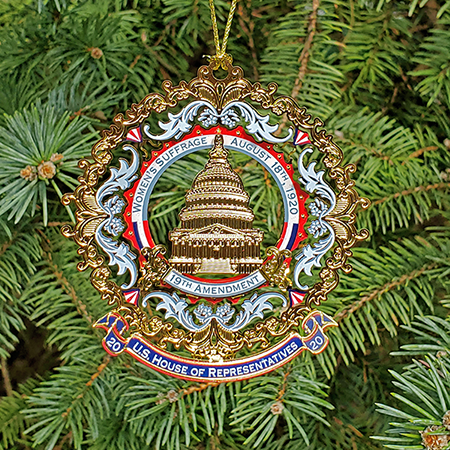 $33.00 SALE PRICE $25.95

PRODUCT ID : 20HRHO
We are proud to offer for public purchase the Official Ornament of the United States House of Representatives commemorating the 100th Anniversary of the 19th Amendment prohibiting states and the federal government from denying female citizens of the United States the right to vote. The ornament features the US Capitol building surrounded by the blue enamel lettering on a white ribbon: WOMEN's SUFFERAGE - AUGUST 18th, 1920 - 19TH AMENDMENT. There outside ring of white enamel and 24 carat gold filigree. On the bottom is a blue enamel scroll with with lettering" HOUSE OF REPRESENTATIVES - 2020.

This moment of history is manufactured in the United States. The ornament comes in a beautiful gift box that can be treasured as a family heirloom. Supplies are limited. Order yours today.



Payment methods accepted









Billing Questions please call 202.285-3238