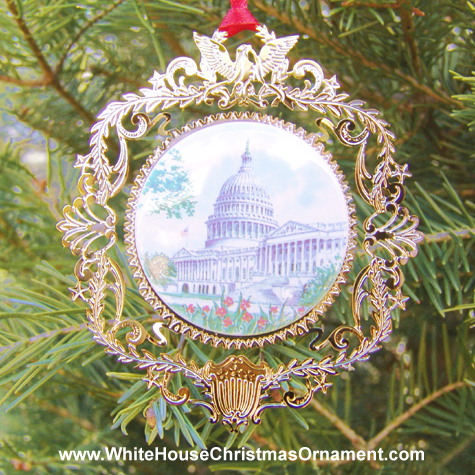 $28.00

PRODUCT ID : 2180000
The White House Ornament Collection presents the Official Society Capitol Ornament.

Official Society Capitol A beautiful watercolor depiction of the U. S. Capitol set on a porcelain insert adorns the U. S. Capitol Historical Society's official commemorative ornament. First produced in 1996, the 22k gold-plated frame incorporates recognizable symbols of freedom and democracy. Gift boxed with provenance card.
Approximately 2 1/2" x 2 1/2".

This Christmas Gift Idea can serve as either a handsome Christmas display or a White House Christmas Tree Ornament. Whether you are looking for a holiday ornament, a tree ornament, or Christmas collectible, this gift will make any Christmas a White Christmas. Own a moment of White House history.

Payment methods accepted









Billing Questions please call 202.285-3238