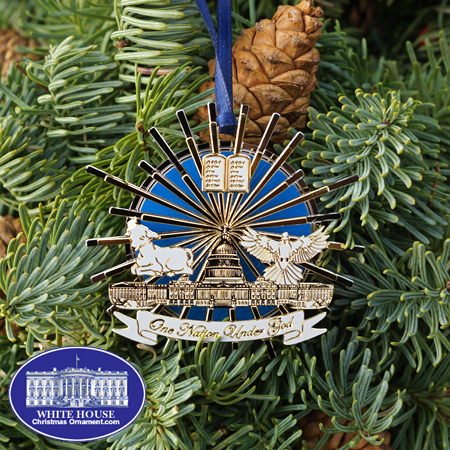 $28.00

PRODUCT ID : 9813210
The White House Ornament Collection presents the One Nation Under God Ornament.

With the United States Capitol building as the centerpiece, the One Nation Under God ornament features a baby lamb above the left side of the Capitol, a peace dove on the right side, scriptures above the Capitol building - all brought together by a starburst emanating from the Statue of Freedom perched atop the Capitol dome. A banner situated underneath the Capitol reads "One Nation Under God" with a background of sky blue and 24k gold finished.

The One Nation Under God Ornament is designed to make people aware of that all men are created equal, that we are endowed by our Creator with certain unalienable Rights, that among these are Life, Liberty and the pursuit of Happiness.

This Christmas Gift Idea can serve as either a handsome Christmas display or a White House Christmas Tree Ornament. Whether you are looking for a holiday ornament, a tree ornament, or Christmas collectible, this gift will make any Christmas a White Christmas. Own a moment of White House history.

Payment methods accepted









Billing Questions please call 202.285-3238