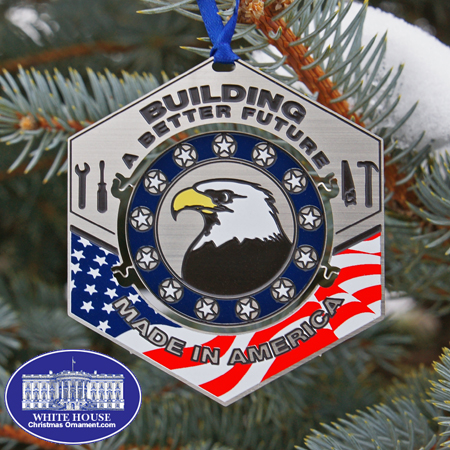 $13.00

PRODUCT ID : 9813073
The White House Ornament Collection presents The Series One, Made in America Ornament.

The official Made in America ornament is brushed nickel and stainless steel is commemoration of American leadership in manufacturing. Formed in the shape of a hexagonal bolt surrounded by 13 ball bearing stars and framing a bald eagle, this ornament is symbolic of American manufacturing's "can-do" work ethic and also features tools used everyday by America's trade-workers: a wrench, screwdriver, saw and hammer. Americans have been manufacturing high-quality goods for hundreds of years and the tradition continues today with this American made ornament.

America has long been the leader in the manufacturing of durable goods, as well as being at the forefront of industrial, agricultural, and technological innovation. The staff at White House Christmas Ornament has created an ornament that celebrates American ingenuity and know-how: our first in a series of "Made in America" ornaments is the result of many hours of design and is manufactured to exacting specifications.

On the back of the ornament words are enscribed, "A nation can be no stronger abroad as she is at home." These words were written by President John F. Kennedy.


Payment methods accepted









Billing Questions please call 202.285-3238