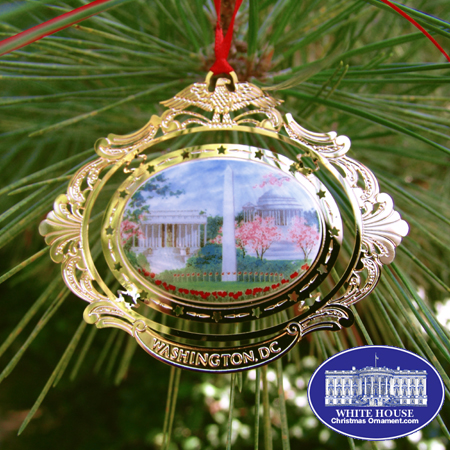 $20.00 SALE PRICE $18.00

PRODUCT ID : 147006
The White House Ornament Collection presents the Washington DC Cameo Ornament.

This Elegant porcelain ornament, mounted within a 24 kt. gold finish frame, bears an authentic panoramic illustration of the great monuments and edifices of Washington, DC, America's capital city.

The very heart of America, Washington's National Mall, serves as the nucleus to a hub of important federal buildings, the headquarters of foreign nations, and an enclave of museums that preserve the nationís most important collections of art, artifacts, and historical documents. Reigning over this hub of American leadership and culture are three national monuments honoring men whose ideas and principles guided the formation of our democratic nation.

This Christmas Gift Idea can serve as either a handsome Christmas display or a White House Christmas Tree Ornament. Whether you are looking for a holiday ornament, a tree ornament, or Christmas collectable, this gift will make any Christmas a White Christmas. Own a moment of White House history.

Payment methods accepted









Billing Questions please call 202.285-3238