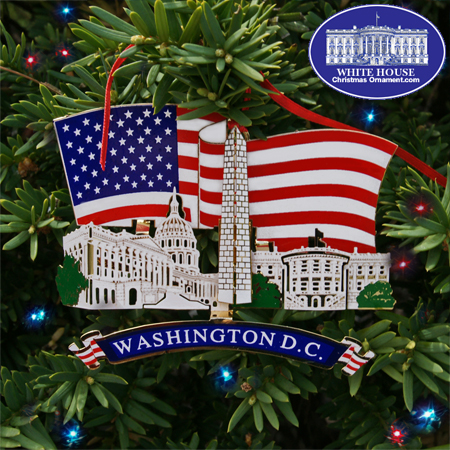 $18.00

PRODUCT ID : 9813130WH
Brand new to our ornament collection is this large (four inches wide and three inches tall) 3-D Washington, DC landmarks ornament.

On a backdrop of the Stars and Stripes are three-dimensional renderings of the U.S. Capitol Building, the Washington Monument, and the south-facing entrance (South Portico) of the White House, complete with a flag flying atop the House.

The steps to the Capitol and the South Portico entrance are raised further from their respective buildings giving a great 3-D impression.

This Christmas Gift Idea can serve as either a handsome Christmas display or a White House Christmas Tree Ornament. Whether you are looking for a holiday ornament, a tree ornament, or Christmas collectable, this gift will make any Christmas a White Christmas. Own a moment of White House history.

Payment methods accepted









Billing Questions please call 202.285-3238