White House Christmas Ornament Collection
Posted under
General
Tweet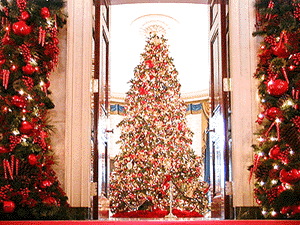 Christmas ornaments are a tradition at the holidays. Without a doubt, the creation of each and every White House Christmas ornament has a sentimental and historical backing. This type of authenticity is clearly what draws a shopper to these classical items. For those who are always on the lookout for original White House Christmas ornaments—each year will bring a new surprise!
Times of Long Ago Are Preserved in Elegant Ornamental Designs.
The contemporary, modern day family loves the holidays. With an ornament program such as the White House Christmas Ornaments, there is a clear and unique way for celebrating American history in the most divine of ways. For most, sharing such historical accounts with ornaments appears to bring about peaceful unity. Since each ornament can tell a story, a collector is given the means to celebrate a royal and customary heritage in a fun way.
These treasures really do exist, and the White House Christmas Ornament collection is a fine example. Once again, lovers of Christmas gain nostalgia when they acquire gifts that allow them to reminisce upon times past. American history is not meant to be forgotten. The ornament program captures those emotions and memories from long ago, and this allows for others to gain an appreciation of that history.
Keeping the recollection of times past in mind, the preservation of American History has had many contributors through the decades as well. These people have been respected and valued within the minds of many American families. For many individuals, capturing a piece of American history is one of the best souvenirs or gifts ever! Once again, the people through history have been some of the most interesting too.
Historical Figures Involved in the Development of the White House Christmas Ornament Collection
One of those past figures is Jacqueline Kennedy. Mrs. Kennedy has certainly held a prominent role in the implementation of The White House Christmas Ornament collection herself. Though the first piece didn't emerge until 1981, Mrs. Kennedy was still a very instrumental figure for a variety of reasons. She had a clear desire to keep the heart felt value of history alive and well.
Many of the restorations and renovations of the White House building itself would have never been possible without Mrs. Kennedy's modern ideas. The White House Christmas ornament collection continues to be a favorable asset today. It consistently provides funding avenues for preserving the qualities of past histories as well.
There is much to be appreciated and many history lovers will find that each of these White House Christmas ornaments have a specific historical meaning behind their design and integration into the time honored collection. Those which first emerged in 1981, such as the very first that was a replica of an angel weathervane created in 1840 are still readily available to the general public.
The Modern Day Desire for Purchasing a White House Christmas Ornament
If you find yourself enraptured with history then one home Christmas ornament from the White House Christmas ornament collection will please you. The traditional and aesthetic qualities are never forsaken. Now, if you have friends and acquaintances who are intrigued with the past histories of America then any one of these pieces will make a fine gift for a collector of relics.
You can view this as a professional wine connoisseur would his infamous wine collection. A history lover would enjoy being presented with a gift such as the "Dove of Peace" weathervane which was created to honor past President George Washington. Most would become infused with delight at such quality and craftsmanship of this timeless piece. This piece was the second one created within this premier collection.
Every year a new traditional piece is added to this pristine assortment of home Christmas ornament items. If you're one of those who has endeavored to capture every one that premiers then you'll find it very exciting to see what is upcoming. Those who travel to Washington will be able to easily begin their own White House Christmas ornament collection at a fraction of what they might spend on a month's worth of Starbuck lattes.
Collectors find these to be amazing pieces of art worth sharing throughout the holiday season each and every year as well. Furthermore, because of the fact that these are created from the most remarkable composite materials, they truly add to the magnificence of your Christmas theme decorations. There is no question on how they've become ideal mementos for many people.
Gift Shopping for the Perfect Home Christmas Ornament
If you haven't begun a novelty collection, a trip to Washington might just change your mind! Once you're in Washington you don't want to leave out your specialty shopping. If you tour the White House, there is a White House gift shop which sells the traditional White House Christmas ornaments collection. The price is also reasonable. Many can't escape the desire of wanting to purchase one of these on each visit.
Honestly, there are many visitors who arrive with the sole intent of acquiring the newest piece in the White House Christmas ornament collection series. Shoppers learn that this program has been in place for 33 years; offering an innumerate amount of collectible treasures. As was mentioned earlier, this collection just helps many connect to the rich history and founding of their country.
While anyone can always find fantastic sites in Washington; there are many offering those worthwhile little gift shops that intrigue and offer satisfaction for money spent. Of course, Washington is one of the few cities where you'll find world class quality home Christmas ornament gift ideas too. With the abundance of things to do, the detailed history to go and explore, and the splendid shopping, you won't be left wondering what to plan.
For instance, it is exciting for some to acquire the traditional, delicately crafted White House Tree ornament. This is one that focuses more on the Presidential family. It is a great gift idea for friends or family. It is one that hallmarks the presence of the first real tree in the White House many decades ago.
White House Christmas Ornaments That Last a Lifetime
Upon its introduction in 1981, the ornament program was almost an immediate hit with the general public. It is unique, which is why there is such popularity with it. While the ornaments mentioned are spectacular and honored, there will always be favorites.
The 200th Anniversary edition White House Christmas ornament is one of the most popular. Plated in 14 karat gold and carefully hand crafted to emphasize every fine detail, it is certainly inspiring hanging amidst other Christmas decorations.
There are two images on this piece. One shows the North side of the White House, while the other is the East Wing. The depiction is amazing, as is the coloring. Perhaps this is one of the reasons it has remained in circulation for so long.
Christmas Home Ornament Items Carrying On Pioneer Spirit
Despite the huge variety within the White House Christmas ornaments collection, there is one specific thing that all of these have in common. They honor the customs and traditions of America and its citizens. You can always bet that the history of each is going to be included in the enriching designs. These ornaments promise to give prized honor to past historical accounts while looking forward to future generations too. From the White House Christmas Tree ornament which recognizes the first tree ever in the White House, to other honorary experiences, these are invaluable.
Collectors will always having something to look back on and something to look forward to with home Christmas ornaments that are this exceptional. The refined qualities are what give the White House Christmas ornaments the recognition they are do. Once again, these timeless treasures will brighten any holiday scape.